GLISTEN COSMETICS Brand and e-commerce website gets a bold new makeover
The brief
Glisten Cosmetics has taken the cosmetic world by storm since its launch in 2017. What was once a career change passion project for owner and founder, Natalie, quickly turned into a global phenomenon.
Aware their digital platforms no longer matched their ambition, reputation and growth curve, Glisten first approached us for a new e-commerce website. Through our discovery sessions, we quickly identified that the broader visual identity was lacking the necessary depth to enable us to create an effective design system.
We worked closely with the Glisten team to evolve the existing brand whilst creating the necessary foundations for a seamless digital experience.
Services provided
Brand strategy
Brand identity
Design & Illustration
UX & UI Design
Website & App development
Search Engine Optimisation (SEO)
Project team
Emily Barnett

Senior Client Partner

John Pike

Strategy Director

Tom Hopkins

Senior Front-End Developer

Tara Wilson

Brand and Digital Creative

Lucy Ford

Project Partner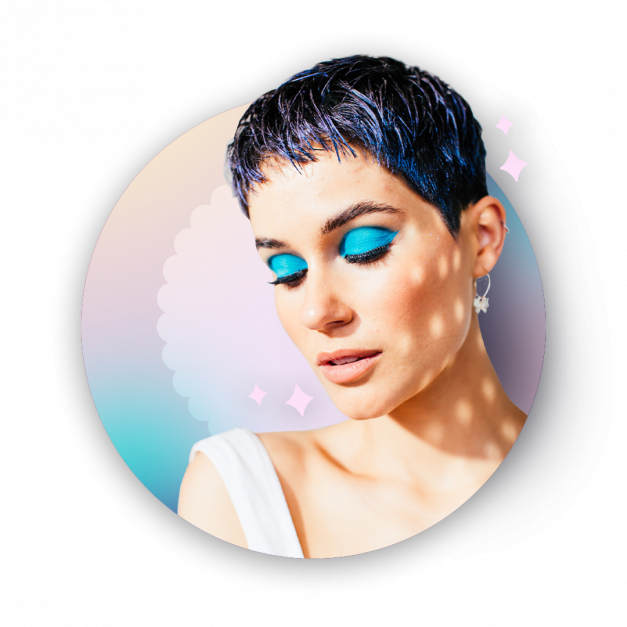 The challenge
Take the brand further
Evolve the existing brand identity and supporting visual system to be both visually engaging and accessible, supporting an ambitious businesss for today and tomorrow.
Drive further awareness
Through SEO and a stronger visual system, drive brand awareness, and ultimately traffic to the website.
Develop an engaging experience
Review the branding and experience within Shopify while also considering the user journey and flow from entry to conversion.
Integrate website seamlessly with wider assets
Ensure the website becomes a solid and reliable asset which integrates smoothly with current operations while providing an interactive experience for customers - driving loyalty and conversion.

The solution
Our aim was to evolve Glisten Cosmetics and help them go further. Refreshing the logo, primary and secondary colour palette, an overhaul of the overall visual system, and how to apply this to photography helped create a solid base on which the new Shopify website could sit.
It was important to create a seamless user experience within the website, so a bespoke development for a brand new palette builder and bundler builder was essential.
Brand evolution
Creating an updated logo helped to keep the same fun and bold look and feel that Glisten is famed for.
New visual system
A huge overhaul to include graphics and icons throughout the website, social media and all collateral, helped create a consistent asset library.
Creation of e-commerce website
The creation of a fresh, modern website that focused on the user journey, experience and conversion, all with a people-first approach.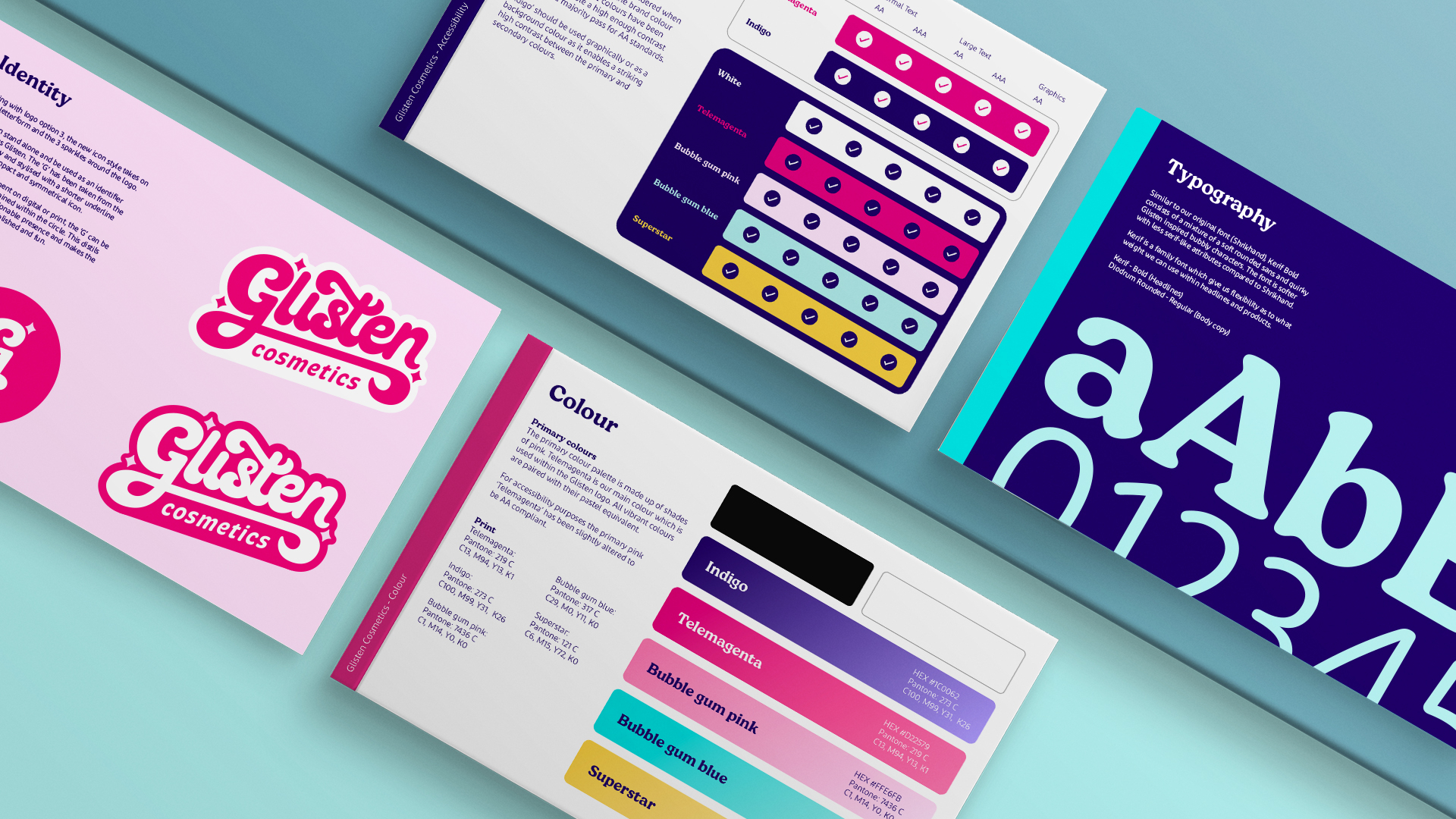 Final thoughts
The new brand visual system fully embodies the bold, bright, energetic, audience-centric essence of the business and its products.
The new e-commerce website uses the new design system to great effect, providing a smooth, trackable user journey that helps Glisten use data to better understand their customers. Utilising the powerful Shopify e-commerce platform, the user experience is clear and succinct, providing customer journeys that drive engagement, and most importantly, conversion, providing a measurable ROI.
The website has also been optimised for search, providing a powerful business asset that aligns with Glisten's long-term business ambitions.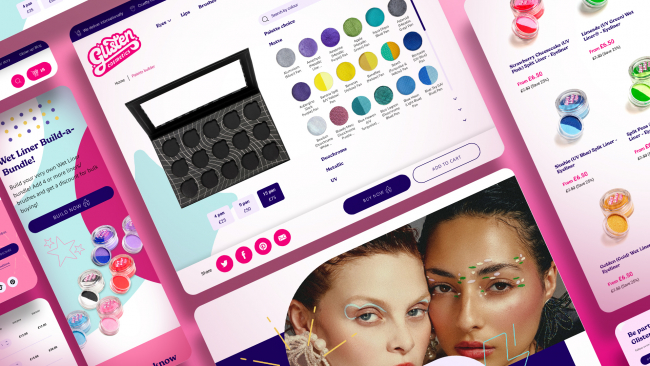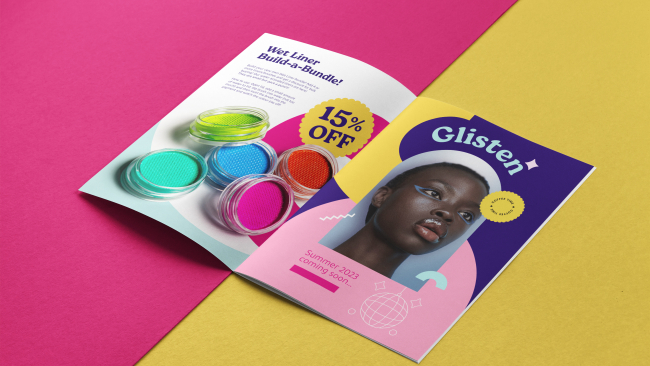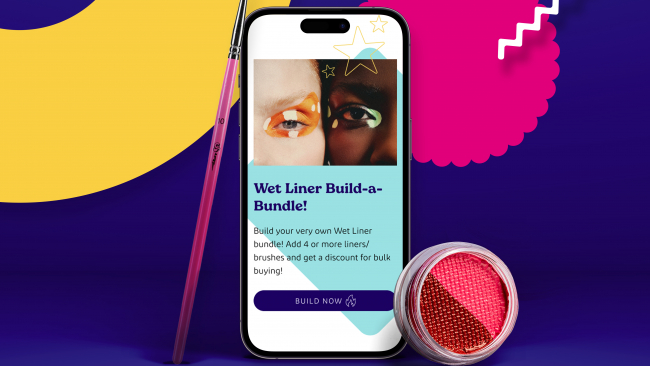 If you would like to find out more about how we can help you connect strategically, creatively or digitally, then call us or get in touch. We'd love to hear from you.