Insights My first week at The Escape
by Lucy Ford, Project Partner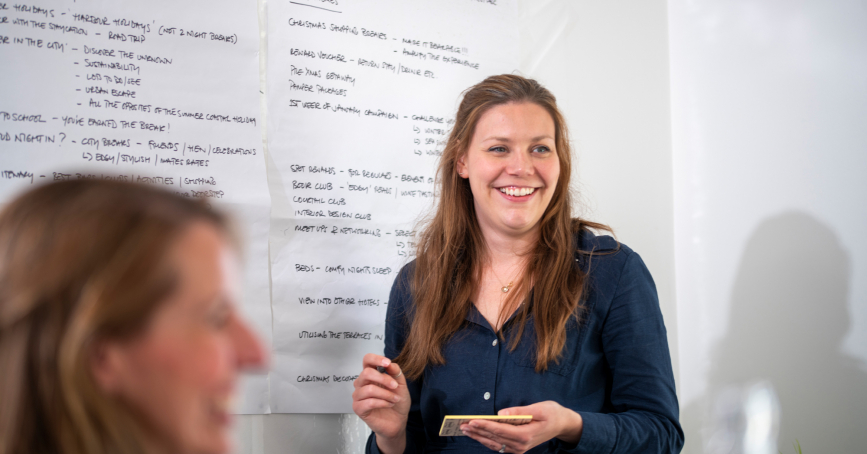 Hello! My name is Lucy and I'm a Project Partner here at The Escape. I thought it might be fun to share with you a little bit about what it's like here as a newbie!
After fighting for the one desk and office chair available in my house for the last two years, I was so excited and relieved to have the opportunity to work in a real office!
The dreaded Covid has a lot to answer for, but it has also changed our lives in some positive ways. I am happy to say that I was part of 'The Great Resignation' of 2021, and I am pleased to confirm that I haven't looked back!
When searching for a new career opportunity, my main aims were to find an agency with the perfect balance between creativity and high quality work. Meeting the team at The Escape was an absolute breath of fresh air.
A bit about me
My background has been in Project Management, working on website projects as well as software installations. The majority of customers I have previously worked with have been in the retail sector and in need of an ecommerce website and retail system for their bricks and mortar businesses.
For the next step in my career, I had always planned to work at a brand and digital agency with the creative freedom to design strong brand identities for clients, with strong skills in marketing and performance. The Escape have an incredible amount of experience and talent in these areas.
I remember reading that The Escape believes that having happy staff makes a productive workplace environment, and how important the work/life balance is. It almost seemed too good to be true, but everyone here takes this very seriously! I strongly believe that an agency's culture comes from the top, and at The Escape, Ian and Rob certainly set a tone that is friendly and warm, but also ambitious and never too serious! I am not sure I have ever met such a driven, motivated and creative team who enjoy coming to work each day. I also really like the fact that the team here are always looking to the future and never see the work as 'done'.
The onboarding process
As a new employee, you never really know what to expect on your first day on the job. On my first morning at the Escape I was introduced to the whole team and subjected to a round of quick fire questions from everyone! This was a great way for everyone to find out about my dated taste in music and my coffee / chocolate / curry addiction!
I went on to meet my own team, Client Services, where everyone was so friendly and helped me to settle in. As a new starter, it is so easy to feel in the way and like you are bombarding people with questions but everyone was so helpful and happy to help in any way they could.
Throughout my first few week, I joined a number of remote calls to be introduced properly to each team (creative, development, marketing and performance). It was great to put faces to names and learn how everyone collaborates to deliver work to clients.
A meeting with senior management taught me the history of the business, and the ambitious plans for business growth and goals for the future which are very exciting.
The following weeks were spent learning about the different software used throughout the business for project management, scheduling tools for the design and development teams, and accounting tools for invoicing and tracking project progress.
I have since been supporting the Client Services team on current projects which has been a great way of meeting some of our lovely clients and now have a handful of clients and projects that I am fully managing which is great!
I may have only been here for a short while, but I can honestly say that I am already feeling proud to be an Escapee.
We're always on the lookout for exceptionally awesome people to join our team! Take a look at some of our current roles.
If you would like to find out more about how we can help you connect strategically, creatively or digitally, then call us or get in touch. We'd love to hear from you.