Insights Collaborating at a distance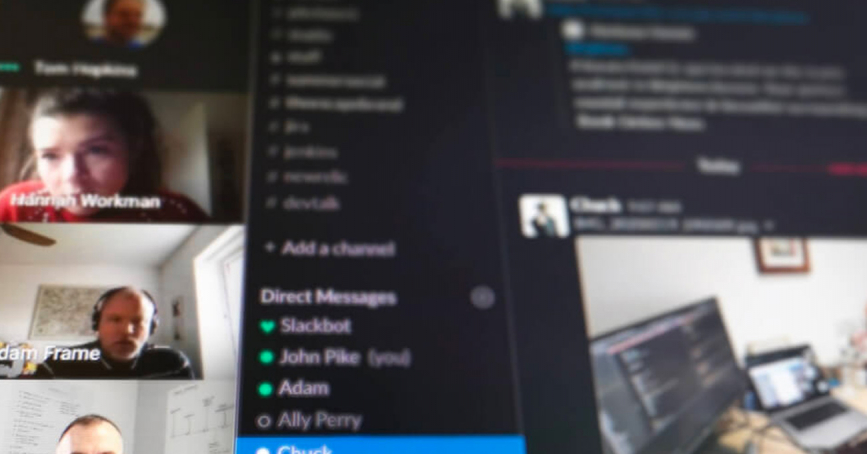 So, it turns out that, most of the time, the Escapee team actually prefers to be in our Farmhouse and to operate as a face-to-face team! Ahh, absence does make the heart grow fonder!
Like everyone, we have had to adjust that approach in these current times. So, remote working is something we have had to embrace as a team.
We've shifted gears quickly in the past week and all Escapees have their own personal offices or little work spaces set up at home. Some have their comfortable actual office, others are taking over their kitchen tables and coffee tables!
But the bottom line is, whilst we are all now in separate locations, we are, in fact, collaborating better than ever!
Why?
Because remote working forces individuals and teams to up their game with communication, admin and task details.
Technology tools and staying human
We've always had tools like Slack, Google Hangouts, Google Chat, Trello, Float, Skype and more to help facilitate our day-to-day business and flexibility, but now, we are using those channels more intensively than we did previously.
The one thing that we do miss from this isolated work style? Body language. Even in this technology-enabled, hyper digital age of business, we miss the physical cues we can get from one another. We miss being able to read someone's mood, energy and respond in kind.
As a team, whenever we Hangout or call one another, we try to always go video first. Retaining the human connection by being able to see one another, see a frown, a laugh, a smile makes a huge difference to keeping communications properly connected and understood.
Too often, email and text forms of communication can slip into formality, even when it is between colleagues. Tone can be misinterpreted and those misinterpretations cause confusion, impact morale and can slow down productivity.
So, we are embracing this disconnected-means-get-more-connected approach to our daily agency life. In this period of "social distancing", how do we reduce the "virtual distance" between our team members?
Tips for remote collaboration
Here are some of our key tips that we are actively employing:
Switch from remote, written forms of communications to regular video calls.
Create digital rituals that bring the team together. We have turned our 9am Board Stand Up into a group Google Hangout and we all jump on about 10 minutes early so we can chat with one another.
Embrace the Cloud. We made the move to G Suite some time ago so we seamlessly collaborate on docs, costings, can comment and tag each other when we need.
Use ALL the Chat Tools! Find whatever works. We have Google Hangouts/Chat, Skype, Slack, Zoom….whatever tool works for you and your work team, get it in place now.
Remember: the biggest assumption about communication is that it happened! Brief communications do not equate to clear and received communication and understanding. Brevity can be a good rule but can result in teams wasting time trying to interpret your messages. Spend the time to communicate with the goal of being ultra clear rather than ultra brief.
The phone. Remember that thing? Whatsapp is excellent in our team for getting agency wide updates out to everyone in a single go...it's also where individual teams can chat, share the smiley emoji and stay socially connected. Phones are also great for actual phone calls :) Whilst we always prefer to go video first, picking up the phone rather than sending an email helps people feel more connected and speeds up response rates to pressing business issues.
Get Social. Now more than ever, it is important to share the social aspects of Work From Home life. Our Escapee team loves the photo updates from our Studio Lead, Guy, showing us how his beautiful Pyrenean mountain dog, Bella, is spending her morning keeping his feet warm or carrying around her stuffed bear, or hearing what one of our Account Managers, Emily, is having for lunch!
Our Escapees are geared up and in the swing of this remote working life. We are collaborating and embracing a variety of tools and techniques to ensure we can keep delivering creatively for our clients in these times.
If you would like to find out more about how we can help you connect strategically, creatively or digitally, then call us or get in touch. We'd love to hear from you.